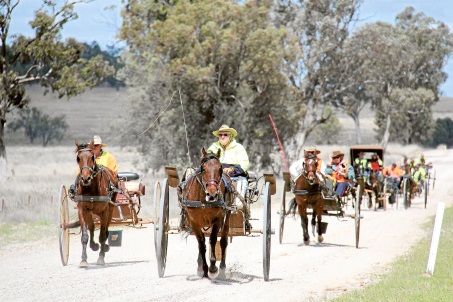 There's still a chill in the air here in Quirindi – we're getting a late-season cold snap, with nighttime temps set to drop back below zero this week. Needless to say, we'll be welcoming Spring with open arms! Check out our guide for the very best of what's on in Quirindi and the Liverpool Plains region in September.
2 September: Wallabadah Public School Horse Sports
Come down to the Quirindi Racecourse from 8:30am for a great day of horse sports for kids. Refreshments are available all day and there are great prizes to be won in raffles as well as in each riding category. All proceeds from the day will go to Wallabadah Public School. For more information call Vicky on 0487 266 436.
12-14 September: Quirindi Spring Show
This year's Spring Show is set to showcase the very best of our vibrant friendly community! The Quirindi region will be on display and there's so much to see and do for locals and visitors alike. There'll be competitions and exhibitions of fine arts, cooking, sewing, food and produce, horsemanship, cattle and other livestock, poultry and pets. Kids can enter their best work in the School Exhibits across a number of categories (such as pottery, recycled projects and even pet rocks!). Friday and Sunday will feature livestock and equestrian events as well as fabulous fun in Sideshow Alley.
Saturday will be the Show's main family day. The Quirindi Show Girl will be crowned during the day, and she will go on to promote Quirindi with a chance to represent the region at the Sydney Royal Easter Show. Saturday will also feature the Ute Show Spectacular, Bull and Steer Ride and Six Bar Showjumping. Don't miss the Woodchop Championship (our personal favourite spectator event!) or the wonderful Piece of the Plains Markets.
Gates open at 8am each day. Ray White Quirindi are proud to sponsor this awesome local event – we'll see you all there!
14-21 September: Liverpool Ranges Harness Club Fundraising Drive
See restored heritage sulkies and homemade carts pulled by hardy horses and ponies as they travel through the lovely rural scenery between Werris Creek and Premer. This year's drive will raise money and awareness for Royal Far West, an organisation helping rural children access specialist healthcare. Over the last four years over $50,000 has been raised for this great cause. The drivers will stop overnight at the village of Breeza, followed by camps at Spring Ridge, Curlewis, Mullaley and Tambar Springs.
28 September: Quirindi Clay Target Club Charity Shoot
A social shoot at the Clay Target Club on Gaspard Road, with all proceeds from the day going directly to support the Quirindi branch of the Australian Red Cross.
If you're looking to buy, rent or sell property in Quirindi, Wallabadah, Willow Tree, Werris Creek or Currabubula, we're here to help! Pop by the Ray White office on George Street, Quirindi any time to meet Luke and the rest of our friendly team.