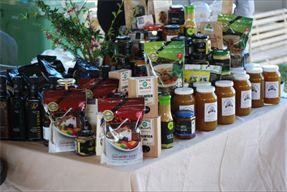 The weather may be icy, but that's no excuse to stay indoors! Read on for our list of unmissable local events this July.
July 5: Royal Theatre Movie Weekend
Quirindi's historical Royal Theatre is showing two of the year's biggest blockbusters this weekend – Maleficent and X-Men: Days of Future Past. Movies in June included The Amazing Spider-Man 2 and The Invisible Woman – visit www.quirindiroyaltheatre.com for full details of upcoming films. New movies are shown every weekend.
July 7: QUOTA markets
These lovely monthly markets give local producers and artisans the chance to sell direct to the community. Come along to Rose Lee Park on Loder St from 8am and enjoy fresh fruit and veg, bric-a-brac, woodworking and more. The markets are hosted on the 2nd Saturday of each month by Quota International Quirindi, a non-profit service organisation which brings friends together to volunteer their time to support those in need.
July 26: PARTY in the Paddock!
Following on from their successful Mad Hatter's Tea Party, the Friends of Children With Special Needs Quirindi Group are holding a Party In the Paddock on the 26th of July. The Quirindi Rural Heritage Village is hosting the event, which will run from 10am to 3pm. The day will be packed with loads of games, competitions, food and drinks so come on down and have a great time in support of one of the community's most dedicated fundraising groups helping out our local schools. Check out our community charity post for info on this great event and more!
July 27: Qurindi Rural Heritage Village Mini Train Rides
The miniature railway operates from 10am to 3pm today! Don't miss the opportunity to check out one of our most unique attractions. While you're here, why not explore the Heritage Village and discover the lives of our region's early settlers, look around the working blacksmith's shop or one of the fascinating ever-changing exhibits.
July 27: Quirindi Races
Today is the Perry Homes Family Day. Bring the whole family along to a rollicking day at the races, with gates open at 11am. A highlight of this country race carnival will be Fashions on the Field, so make sure your winter race day outfit is up for the challenge!
July 27: Quirindi Motocross Series
Quirindi Motorcycle Club is running a 7-round MotoX series on the fourth Saturday of each month at Stu Johnson Park. All riders are invited to join in these club days, and the track is suitable for novice through to expert levels. Race classes range from the five-year-old 'Nippers' kids division through to A-Grade Senior division. Sign-on is from 8am. Spectators and families are welcome, there's canteen and toilet facilities and plenty of parking on-site.
July 29: Local Government Week
Councils across New South Wales hold special events throughout the week to educate communities how they can get involved and benefit from council programs, services and activities.
Our friendly team at Ray White Quirindi hope to see you out and about this winter, enjoying all our wonderful region has to offer. If you're interested in buying or renting property in the Quirindi area, drop by the George Street office for a chat anytime!